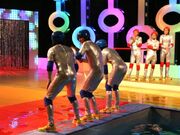 Ylvis møter veggen
(Ylvis meets the wall)
was a TV game show that aired on TVNorge in the fall of 2008.
Ylvis Møter Veggen
was inspired by the Japanese TV show called
Brain Wall
, also called "Human Tetris", and "The hole in the wall". It only aired one season. 
Bård and Vegard were the team captains, with celebrity guests making up the rest of the members. The teams stood at the edge of a pool and tried to form themselves into the shapes cut in the oncoming wall without falling in the water. Sometimes there would be complications - such as Vegard shooting Bård in the butt with an airsoft gun - and quiz wall rounds, in which the contestants would have to answer questions in addition to trying to get through the wall. The team that got the most points won. 
Episode List
Highlights
Extras