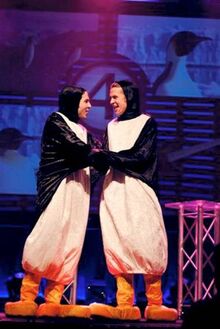 Ylvis III premiered on January 27th 2007 at Ole Bull Theater in Bergen. Ylvis went on tour all around Norway with their stage show, starting in Oslo and ended at Odda cinema in 2009.
The stage show was recorded, and released on DVD on December 3rd 2008.
Ylvis 3 was a musical, comedy act. A Sondre Lerche parody was one of the segments along with, Pingu, computer trouble, ipod and a magic show. Gangsta baby, Hva kan eg gi deg and to gamle men were some of the musical acts in the show.
They performed their segment "Pingu Show" at Gullruten in May 10th 2008. You can see their performance here.
Watch Ylvis III with English subtitles here.
Interviews
Photo Galleries