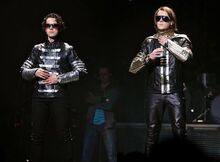 The Expensive Jacket Tour is a comedy rock concert tour featuring Ylvis and a supporting band of musicians, dancers and fellow comedians. The tour opened with a sell-out concert at Oslo Spektrum on 28 February 2014, and has since continued to tour across Scandinavia at a variety of venues. The last show of 2015 was 8 August at the Skallydyrfestivalen in Mandal.
No shows have been scheduled for 2016.
Oslo Spektrum
In November 2013 Ylvis announced they would be performing a concert at Oslo Spektrum, an 8,500 capacity indoor arena, in cooperation with Stageway and TVNorge. It transpired that the men had booked the venue over two years previously with the eventual plan to perform a concert featuring the songs they had written for I kveld med Ylvis .[1]
Due to the success of The Fox and Ylvis' growing international fan base, tickets sold quickly and by the day of the concert, 28 February 2014, all tickets were sold out. Fans traveled from as far away as Texas, showing their devotion to Ylvis by camping outside the venue in tents up to eight hours before the concert was due to start.
The show kicked off with a ten minute countdown, which featured a flaming 'Y' logo. When the countdown was finished a brief video clip played featuring Bård and Vegard sitting on stools. The men looked solemn and serious as they were shown being preened and prepped by two immaculately-presented women. The now famous jackets were donned and the screen went blank. In what was no doubt a nod to Justin Beiber's entrance for his Believe tour, the two men appeared suspended from the ceiling with metallic wings, before opening with their high-tempo number, 'pressure'.
The show was a hit with fans, featuring previously unheard songs ("Shabby chic") and reworked versions of old songs ("Ytterst på tissen"). The show also featured performances from Calle Hellevang-Larsen, Magnus Devold and Bjarte Ylvisåker. Notable highlights included the men hurling hamburgers into the hungry crowd, and a stunning display of pyrotechnics during 'Jan Egeland'. Despite the enormous success of the show, Ylvis claimed they did not profit, as all ticket revenue was spent on special effects and fast food.[2]
Set list
Pressure
Shabby chic
Jeg heter Finn
Work it
Pie Jesu
We are the champions/You raise me up (Calle Hellevang-Larsen)
Massachusetts
I will never be a star (Bjarte Ylvisåker)
The cabin
Careless whisper (ft. Calle Hellevang-Larsen and Magnus Devold)
Someone like me (ft. Kjersti Botn Sandal)
Sammen finner vi frem
Janym
Ytterst på tissen
Stonehenge
Jan Egeland
The Fox
Photo Gallery
Bergenhus Festning
In January 2014, prior to their sell-out concert at Spektrum, Ylvis announced they would also be performing a concert at Bergenhus Festning on 16 May 2014 on the eve of Grunnlovsjubileet i Norge 2014 (The constitutional jubilee). This was to be their first of many outdoor concerts as part of The Expensive Jacket Tour.[3] Once again, national and international fans alike lined the lawn at Bergenhus fortress, some queing for many hours in the rain to get a good spot.[4] Like Spektrum, the concert was well received, with notable highlights including Ylvis rising up through a hatch, and Vegard trying on a fan's yellow sydvest.[5]
EJT 2014 concerts
After success at Oslo and Bergen, Ylvis took their concert on tour across Norway, playing at a variety of festivals. Clips from all of these concerts are widely available on YouTube.
EJT 2015 - Ylvis goes utland
Late 2014 it was announced that Ylvis would be continuing The Expensive Jacket Tour with two new concerts at Drammen Teater in March. This led to reported speculation amongst fans that Ylvis was once again planning a large concert, as they had performed at the same theatre the previous year to practise for their Spektrum performance. On 4 December it was confirmed that Ylvis would be performing their first overseas concert at Globen arena, Stockholm on 21 March 2015.[17]
The two Drammen concerts gave Ylvis an opportunity to shake things up a bit, removing some tracks from the set list and replacing them with new tracks premiered on the fourth season of I Kveld Med Ylvis. The performance of 'Mr toot' featured a bearded Bård playing the famous toot, 'Trucker's hitch' was given a melancholy acoustic edge, 'Intolerant' featured Vegard gliding across the stage in an ornate red jacket, and during 'Yoghurt' Bård prompted audience members to create a new Djoghurt flavour.
EJT 2015 set list
Pressure
Shabby chic
Jeg heter Finn
Work it
Mr Toot - new for 2015
Pie Jesu
Massachusetts
Trucker's hitch - new for 2015
Intolerant - new for 2015
The Cabin
Careless whisper (ft. Magnus Devold)
Janym
Ytterst på tissen
Yoghurt - new for 2015
Stonehenge
Jan Egeland
The Fox
Stockholm and SexyBack
Following on from the two Drammen concerts, speculation mounted as to what Ylvis would have in store for fans in Stockholm. For the first time, Ylvis fans were given the opportunity to purchase VIP tickets, which would afford them early access to the arena and the chance to meet the performers after the show; including Ylvis, the band and dancers. Having taken the opportunity to iron out technical glitches during the Drammen concerts, Stockholm performances were flawless. Early highlights included a performance of an improvised song 'painkiller', and choreographer Thea Bay being doused with milk during 'Intolerant' (followed by Vegard arriving on a mechanical hobby horse).
However, the Stockholm concert is best known for the number performed directly after Bård finished his solo performance of 'Yoghurt'. The band started playing an instrumental version of Justin Timberlake's hit track 'Sexy Back', Vegard returned to the stage and announced to the audience that it was a little unfair that the ladies had been subject to so much 'eye candy', whilst the men had had none. He asked for a male volunteer to step onto the stage so they could redress the balance. They selected a man named Mike from the front row, who looked on amused as a female dancer named Melissa tied him to a chair center stage. The men counted down the music, temporarily leading the confused audience to believe Melissa would perform a raunchy dance for Mike. However, things took a turn when both brothers grabbed their crotches and hopped forward to the beat of the music, flanking Mike and whipping off their shirts. Ylvis, along with two shirtless male dancers, proceeded to perform a lap dance for Mike. The dancing culminated in Bård unbuttoning his pants and thrusting his crotch into Mike's face. Overall, the performance was well received by the fans. Especially Mike.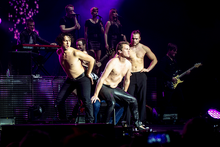 Despite the memorable performance, the concert received a lukewarm reception from the Swedish press, with one headline reading 'Varför ska vi bry oss om vad räven säger?' (why should we care about what the fox says?).[18][19]
Fan Articles:
SexyBack - Live in Stockholm 21 March 2015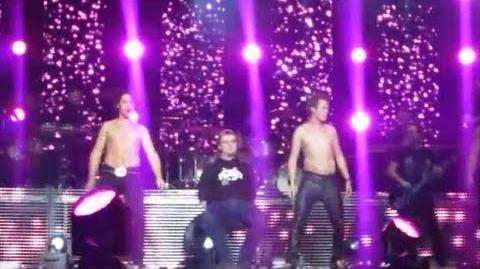 EJT Summer 2015
The Expensive Jacket Tour will continue in 2015 with concerts at festivals across Norway. Whether SexyBack will feature on future set lists remains to be seen.
2015 Extras:
International Tour?
Many of Ylvis' fans outside Norway are eager for Ylvis to play in their home countries. Fan blog Ylvis Suomi asked Vegard in August 2015 whether they have plans to take the EJT abroad:
[YS] Have you thought about taking the concert abroad, further than Sweden? For example Finland.
[Vegard] Yeah, sure. We have. It's just hard to know how it'll play, like how many people will come. But our main problem is time. We're now producers on the Magnus show, and we have our own show, and we have family that makes stains like this on the clothes [scratches off some unknown white substance on his thigh]. It's a lot of things. It's ok for us to go to Sandefjord and wherever to just play, but if you have to go on a tour, that's another thing. And doing just one concert in Poland or whatever... You can do it for fun. We wouldn't do it for money. But you would have to have a tour. At the moment we don't have time for fun anymore. Or we have fun, but for extra fun. So it's a luxury problem for us.
EJT 2017
Ylvis have been booked to play some shows with other artists in 2017 - see the list below. No stand-alone shows have been announced at this time.
Ylvis Promotional Video for DDR
Ylvis Announces Pohoda Festival 2017 Show
Cite error: <ref> tags exist, but no <references/> tag was found