Magnus Devold
Name
Magnus Devold
Birthday
13 November 1986
Status
In a relationship
Twitter name
magnusdevold
Magnus Devold is a Norwegian comedian best known as the sidekick to Bård and Vegard on
I Kveld Med Ylvis,
featured in all five seasons of the talk show. Magnus has also appeared in a number of mini series for VGTV, including
Norges beste fest
and
Verdens Beste Ferie
.
I Kveld Med Ylvis
Originally billed as an 'intern' in season one of I Kveld Med Ylvis, Magnus' role became increasingly important; including hosting his own game show segment, 'Gullsjansen' in season four.
Kjendiskveld (2015)
Magnus got his own show called Kjendiskveld (Celebrity Night) in fall 2015. Kjendiskveld was a parody of entertainment news shows, and Ylvis were featured in several episodes.
The Vegard Hair Scandal
The premier episode of
Kjendiskveld
had an expose on
Vegard Ylvisåker
, revealing that his famous curly hair was not natural. There was footage of Vegard taking out the trash and walking his dog with straight hair, followed by an advertisement for his favourite curling iron.
The Bård Dog Poop Scandal
In this episode Magnus revealed that
Bård Ylvisåker
had adopted the American celebrity habit of picking up his dog's poop with a plastic bag, instead of using his bare hands and putting it in his pocket to dispose of later, like a real Norwegian would. Magnus first confronted Bård while he was out walking his dog, then had him in for an interview where he grilled Bård some more about his Hollywood pretensions.
The Vegard Barbecue Scandal
Magnus continued to keep a close eye on Ylvis' celebrity extravagance, and his next target was Vegard's habit of barbecuing out in his yard, showing off to all his neighbours.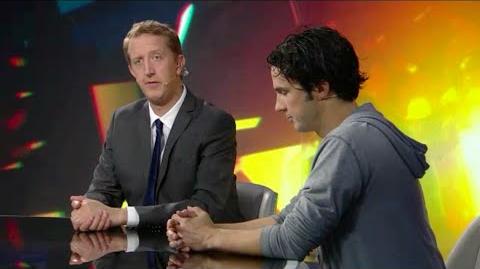 The Selfie Contest
Magnus took the opportunity to get revenge on Ylvis for all the humiliating pranks they subjected him to on I Kveld Med Ylvis by making them participate in a selfie contest in downtown Oslo. The object was to get people to take selfies with them without being prompted. There was a time limit and the loser would have to sing The Fox in the middle of Egertorget.
Magnus decided to further humiliate the contest loser (Bård) by making him go into a busy fast-food restaurant, climb up on a table and announce that he would be singing outside shortly.
Magnus Devold: Kjør meg til OL (2017)
Magnus' next TV project is a travel show, Kjør meg til OL (Drive me to the Olympics.) The premise is simple - Magnus, who does not have a driver's license, has to find people to drive him from Oslo through northern and eastern Europe to South Korea, in time for the opening ceremony of the 2018 Pyeongchang Winter Olympic Games.