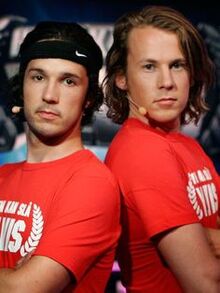 Hvem Kan Slå Ylvis was a TV game show that aired on TVNorge in September 2009. Bård and Vegard were the red "home" team, and competed against a blue team made up of various celebrities. They competed in all kinds of activities such as wood cleaving, dodge ball, quiz and connect four. If the blue team won, they would get prize money, The amount would vary from 250 000kr to 1 000 000kr.
The concept was taken from a German TV show Schlag den Raab featuring German comedian. Stefan Raab.
Ylvis only did one season of Hvem Kan Slå Ylvis , then professional skiers Kjetil A. Aamodt and Lasse Kjus took over their roles as hosts. The show's name changed to Hvem Kan Slå Aamodt og Kjus but the concept was the same.
Ylvis appeared on the November 10th, 2010 episode of Hvem Kan Slå Aamodt og Kjus as the blue team (guests).
Episode List
| # | Air Date | Guest |
| --- | --- | --- |
| 1 | 31.08.2009 | |
| 2 | 01.09.2009 | |
| 3 | 07.09.2009 | |
| 4 | 08.09.2009 | |
| 5 | 14.09.2009 | |
| 6 | 15.09.2009 | |
| 7 | 21.09.2009 | |
| 8 | 22.09.2009 | |
Extras